Meet Our Durango Home Builders
Three Springs is proud to have the area's premier home builders in Colorado creating  energy-efficient homes at Three Springs. These brand new homes are woven together by excellent trails in a neighborhood surrounded by open space and all that makes Durango, Colorado one of the best places to live in the country. We are told over and over again by our residents that they are thrilled with the price and value of their Three Springs home. Our builders all have their homes rated by a third party inspector to meet or exceed the Three Springs Sustainability Program of achieving a HERS score of 90 or less. Energy efficient construction means lower utility bills, easier maintenance and upkeep, and environmental peace of mind. Connection to the trails without ever getting in a car, access to amazing parks and nature walks, and walk-to restaurants mean that our residents park their vehicles and stay awhile (like for life!). We welcome you to learn more about the reputable builders who are helping to grow our neighborhood.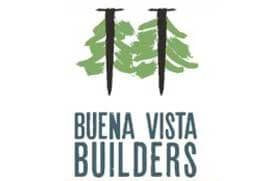 Buena Vista Builders
Buena Vista Builders, Inc. has been in business for over 20 years in Southwest Colorado but our customers come from all over. Whether they are looking for a custom home build or a remodel on their existing home, we will help them make any dream possible. Our energy efficient construction and expertise will make your custom home or home remodel project stand out amongst the crowd. Our past projects consist of everything from custom home builds, commercial tenant improvement, residential remodels, new commercial construction and custom remodels.  We pride ourselves in providing high-level customer service and an expertise that is not easily found in our industry. Our experienced team can help you with all phases of your project including financial analysis, predevelopment services, sourcing suitable land, and architectural review, through design, construction, project management, and completion. Our honest and personable staff can help make even the most daunting task effortless and affordable. We are setting the standard by including innovative programs in our work such as BuilderTREND® which allows our customers and subcontractors to track their progress through on-line calendars, photos, and budgets. Vist our website  for more information.
Durango Colorado Builders, LLC
Ken Robinson the owner, is a local born and raised here.  Ken learned his trade/craft by working with high quality builders in Durango.  This is reflected in his 27 years of experience building homes in the Durango area.  DURANGO COLORADO BUILDERS LLC takes pride in beautiful and functional designs, quality construction, and competitive pricing. We strive to satisfy homeowners needs and exceed your expectations.  We build upgraded speculation homes in the Three Springs community. Contact Ken at [email protected] or call 970-749-2296 for more information.
High Country Construction
High Country Construction of Durango, LLC has been building in the Durango area for 26 years.  We have built, remodeled and refurbished a variety of single and multi-family homes and commercial units.  We strive to take on only what we can handle and focus our energies on customer relations and quality of work.  We pride ourselves on the cleanliness and organization of our job sites and the respectability and reliability of our staff and of our subcontractors. Visit www.durangogeneralcontracting.com for more information or contact Steve and Angela at [email protected] or call 970-946-1321.
SHAW LTD
You won't find a more ideal place to call home than Three Springs.   Shaw homes offers a variety of architectural styles ranging from a modern, metal accented contemporary look to a more comfortable farm-house feel. Spacious lots allow you the opportunity to enjoy a 1,650 sq. ft. floor plan with a private backyard, covered terraces, signature finishes and much more. The Three Springs neighborhood includes  many parks that can be accessed within a few steps from your home. Visit http://prospectordurango.com/ for more information or contact Amanda at 970.903.2313.
SILVERPICK CONTRACTING
SilverPick Contracting is a full service, high quality home builder with over 17 years of experience in Southwestern, CO. Jaaron Mankins, owner of SilverPick, is a third generation resident and has lived in Durango for 35 years. Jaaron's passions are building homes and enjoying all the amenities the surrounding countryside has to offer with his family. Jaaron has extensive experience in all phases of construction with a focus on new building concepts, materials, and energy maximization. Jaaron's high professional standards, attention to detail, and superior customer service has earned him an outstanding reputation in the building industry. More information about Silverpick Contracting.
Sutter Homes Co
Sutter Homes Co has been building in the Durango area for 13 years and has a commitment to integrity and offering the best product for the lowest price.   Sutter Homes has a passion for energy efficiency for both the quality of home sold to homeowners and for being stewards to the place in which we all live.  Sutter Homes has built several net zero homes and has a firm commitment to serve the community of Durango and the people who reside here.  Contact Mike Sutter at 970-946-4849 or [email protected] for more information, or visit the SHC website at http://sutterhomesco.com/.